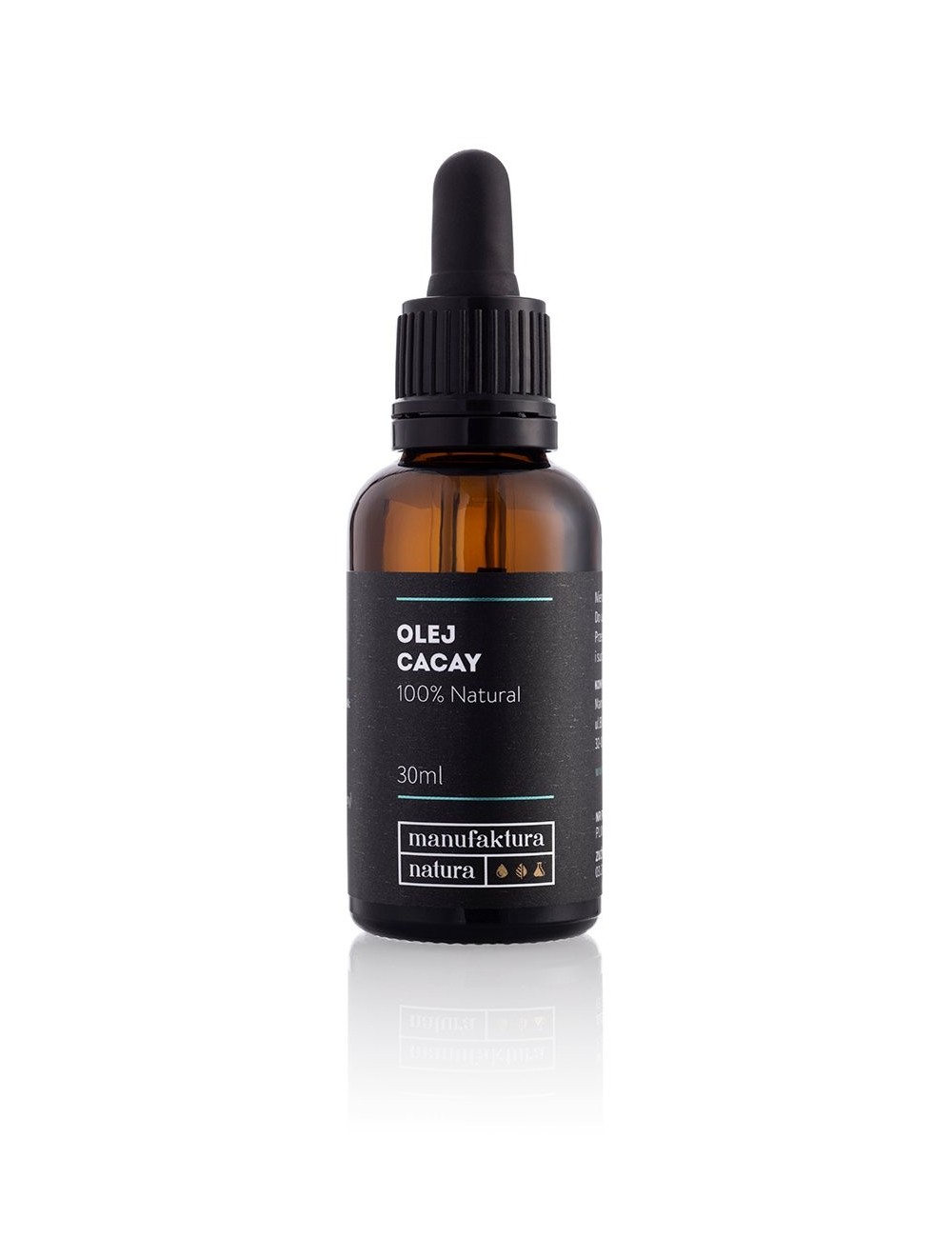  
Cacay Oil
Cacay oil is an extremely efficient product. Just massage into the skin a few drops. It absorbs very quickly and does not leave a greasy film on the skin. Recommended especially for people with mature, dehydrated, dry, irritated by UV-rays, problematic (sensitive, acne) skin; with signs of aging and with skin discoloration.

PayPo Buy It Now - Pay in 30 days

Safe shopping

Fast delivery

Clear product returns

Natural products
How to use it?
Cacay oil is an extremely efficient product. Just massage into the skin a few drops. It absorbs very quickly and does not leave a greasy film on the skin. Recommended especially for people with mature, dehydrated, dry, irritated by UV-rays, problematic (sensitive, acne) skin; with signs of aging and with skin discoloration.
In skin care:
      oil is suitable for the care of the delicate eye, mouth, neck or décolleté area; massage a few drops of product directly into the skin; it has been proven that regular use of oil visibly reduces wrinkles,

      due to the high content of vitamin A, applied regularly will accelerate the healing process of acne scars, pimples and minor wounds; also evens skin tone, brightens the skin, freckles, reduces discoloration andskin blemishes, 

      use as a substitute for face cream,

      works as a moisturizing oil for your skin after bathing,

      mixed with sweet almond oil and a few drops of essential oil, it can be used as a full-body massage oil,

      oil works as an emollient for calloused skin on knees, heels or elbows.
Hand and nail care:
applied once a day to the cuticles and nails will prevent the tiles from splitting.
In hair care:
      the product has deeply regenerating properties, without weighing down the hair; apply in the form of a mask 30 minutes before washing,

      if you struggle with dandruff and excessive greasy hair, with 2 tablespoons of oil, massage the scalp for at least 20 minutes before washing,

      you will discipline unruly strands with a few drops of the product rubbed into wet or dry ends of the hair.
INCI: Caryodendron Orinocense Seed Oil
100% Natural, Cold pressed, Unrefined
Storage: The product should be stored in a shaded place, away from heat and light (optimally at 10-20 ° C).
Specific References
EAN13

5903641536332
16 other products in the same category
If you had the opportunity to read one of the greatest polish book for kids named "W pustyni i w puszczy" (in english: "In Desert and Wilderness") you probably remember that huge, empty baobab's trunk gave shelter to Stas and Nel. By the African natives is called the Tree of Life and a plant that grows' with roots up. Baobab oil seduces with a slight.
In ancient time almond wood was used in king's scepters production - believed that it has a mysterious power that passes through the ruler. Just a few people know that Vincent van Gogh, enchanted by view of blooming almond trees, painted a "Blossoming Almond Tree" picture. It's nothing surprisingly then that the oil pressed from it's nuts is characterized by unique effects.
Green coffee smells different than roasted, which we are drinking every morning. Immature green beans are extremely rich in antioxidants that protect our DNA's construction. This is another product straight from the Amazonian forest with an intense, herbal aroma which is bringing our noses smell of a freshly mown grass.
Regular price
£24.74
-20%
Price
£19.79
Plant named opuntia ficus-indica for Aztecks was a holiness. This huge cactus produces small seeds from which is pumped an valuable oil. Precious literally and figuratively – it's the most expensive oil in the world. Although this fact the opuntia oil has gained thousands of followers around the world, called by them as 'botox in a bottle'.
Not everyone knows the fact that the plant which is growing in the fields, meadows and wasteland, widely regarded as a weed has remarkable properties, highly prized by the pharmaceutical and cosmetic industries. Evening primrose was the one loved for centuries and used by women and men to body care.
It's undeniably one of our favourite oils. With incredible speed, it rebuilds damaged skin. It is of gentle sweet, marzipan and almond scent. The product is mechanically pressed directly from the seeds without the use of high temperatures, thanks to which it maintains high nutritional properties.
Filled with the scent of gardenia flowers, the symbol of the tiara and crown. Monoi oil is a unique product and to these days is traditionally manufactured by the people of Polynesia. Flowers soaked in coconut oil for a long time are exuding their exotic aroma. Snow-white, star-shaped flowers are covering the shrubs which are planted at the fields of the Tahiti island.
Strawberries are one of the symbols of sunny summer. Few people know, however, that from the small seeds of the fruit, the oil, called the strawberry elixir of youth, is pressed. Strawberry seed oil is a dark green, light product, and its aroma can be compared to slightly nutty and fruity notes.
Regular price
£6.09
-20%
Price
£4.87
Avocado is worshiped for centuries in Central America – Aztecks named it 'the butter of wilderness'. The Incas believed that it affects to love. Avocados, due to it's coarse, dark green skin are called also 'the alligator pear', sailed to Europe in the seventeenth century. To these days world is crazy about it. Light green oil pressed from this fruit has remarkable properties.
For hundreds of years, grape seeds have not been used - only today, thanks to the developed technology, we can obtain oils even from so little oily products. We are glad that it happened. The original effect of this oil on the skin was discovered, among others, due to the huge content of vitamin E, which delays the aging process.
According to the legend Tutankhamen was so fascinated by the effects of black cumin that ordered his servants to have it with them all the time. After Pharaoh death vial with oil was closed in his sarcophagus. Cleopatra and Nefertiti owed black cumin's oil a beautiful and silky smooth skin.
Years back Roman commanders ordered to serve to the warriors wine with the addition of borage leaves believing that it will add them manhood in battle. To these days we still don't know if it was effective. We know, however, that modern medicine appreciates the health benefits of borage because of the content of many substances that favorably affecting to the human body.
Customers who bought this product also bought:
Although we associate it with exotic countries because it comes from Barbados, it came to us from Europe, specifically Italy! There, thanks to an increasingly favourable climate, the grapefruit has found its ideal place for cultivation. It would seem that a fruit made up of as much as 90% water will not be of much benefit to our skin. Nothing could be further from the truth: both problematic and mature skin will love it.
Ylang-Ylang is a Filipino phrase translated as 'flower of flowers'. The plant is traditionally used as a decoration for the headboards of newlyweds' beds. The head-tapping, floral scent, with delicate hints of narcissus and banana, is extremely calming and easily sends you off to the world of dreamy dreams. It is a spirit stimulant and mood enhancer.
Regular price
£7.23
-20%
Price
£5.79
A unique blend of hyaluronic acids which will respond to the needs of our clients in terms of moisturizing and caring for skin exposed to the occurrence of wrinkles. Hyaluronic acid, one of the strongest substances in this matter.