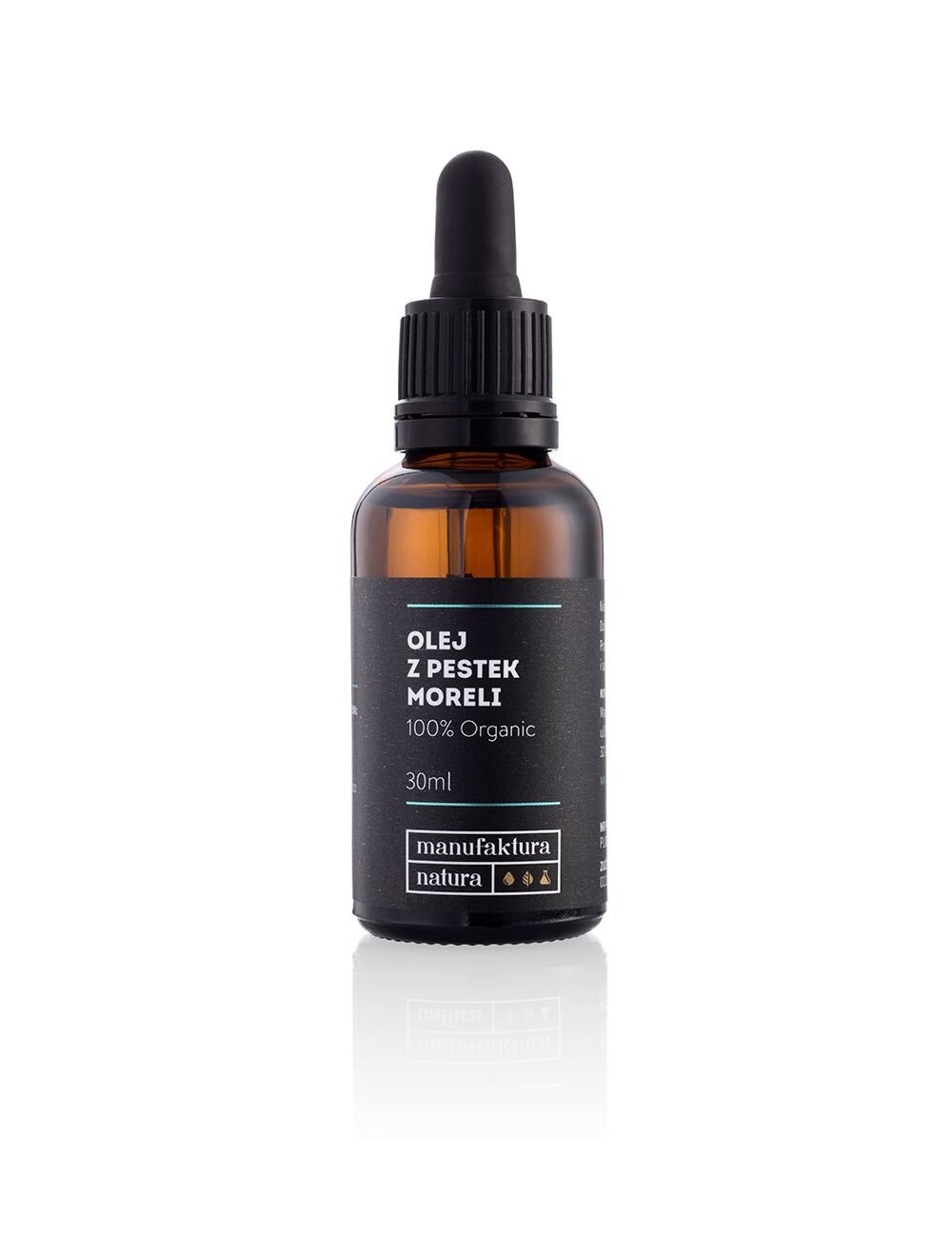  
Apricot Kernel Oil Organic
Pharmaceutical companies have been inspired by healing effects resulting directly from nature for years. We know that apricot kernels are an excellent source of vitamin B17, that fights with cancer cells. The common apricot tree not only gives fruit tasty, but also rich in vitamins. Oil ingredients, applied directly to the skin, naturally nourish it. 

PayPo Buy It Now - Pay in 30 days

Safe shopping

Fast delivery

Clear product returns

Natural products
Pharmaceutical companies have been inspired by healing effects resulting directly from nature for years. We know that apricot kernels are an excellent source of vitamin B17, that fights with cancer cells. The common apricot tree not only gives fruit tasty, but also rich in vitamins. Oil ingredients, applied directly to the skin, naturally nourish it. 

Even if you don't realize it, apricot kernel oil is included in cosmetics that are in your bathroom - hair products, creams, lotions, soaps. This is a valuable addition in organic cosmetics, because it is extremely light and mild in action. Recommended as a substitute for argan oil.
 How to use it?:
      use its skin hydrating properties; massage a few drops into the skin before bedtime or immediately before applying makeup - it does not leave a greasy film, has a light texture (this allows it to be used by people of all skin types),

      a mixture of oil and olive oil in a 1: 1 ratio will successfully replace a lotion and body oil after bathing; used in the form of massage oil is extremely delicate, mild and light - therefore it can be used even in infants; if the purpose of your massage is to calm down, add a few drops of essential oil (lavender or lemon),

      this product has one unique property - thanks to the high content of GLA acid, it maintains the proper level of skin moisture, firmness, delays the skin aging process and skin graying; in addition, thanks to anti-inflammatory action, it will help heal imperfections,

      a mixture of oil and sugar will create an excellent face and body scrub; it will exfoliate dead skin cells leaving the skin smooth and soft - this will remove blackheads and clean the pores,

      use oil as lip balm,

      regularly used in hair care, strengthens the structure of the strands, activates their growth, returns shine and softness; for this purpose, massage warm oil into the scalp for 20 minutes, leave it on overnight, and wash in the morning as usual (warm the product gently in such way that it is slightly warm - too hot can result in burns!),

      add a few drops of oil immediately before use to the shampoo and hair conditioner - this will improve the condition of damaged and weakened, by hairdressing and thermal treatments, hair,

      the oil also has a number of health properties: soothes arthritis, affects the condition and health of the heart, supports the treatment of colds and flu.
INCI: Prunus Armeniaca (Apricot) Kernel Oil
Cold pressed, unrefined oil, organic Soil Association certificate
 Country of origin: Turkey
 Storage: The oil should be stored in the original packaging in the refrigerator.
Specific References
EAN13

5903641536417
16 other products in the same category
Filled with the scent of gardenia flowers, the symbol of the tiara and crown. Monoi oil is a unique product and to these days is traditionally manufactured by the people of Polynesia. Flowers soaked in coconut oil for a long time are exuding their exotic aroma. Snow-white, star-shaped flowers are covering the shrubs which are planted at the fields of the Tahiti island.
Avocado is worshiped for centuries in Central America – Aztecks named it 'the butter of wilderness'. The Incas believed that it affects to love. Avocados, due to it's coarse, dark green skin are called also 'the alligator pear', sailed to Europe in the seventeenth century. To these days world is crazy about it. Light green oil pressed from this fruit has remarkable properties.
Not everyone knows the fact that the plant which is growing in the fields, meadows and wasteland, widely regarded as a weed has remarkable properties, highly prized by the pharmaceutical and cosmetic industries. Evening primrose was the one loved for centuries and used by women and men to body care.
In ancient time almond wood was used in king's scepters production - believed that it has a mysterious power that passes through the ruler. Just a few people know that Vincent van Gogh, enchanted by view of blooming almond trees, painted a "Blossoming Almond Tree" picture. It's nothing surprisingly then that the oil pressed from it's nuts is characterized by unique effects.
If you had the opportunity to read one of the greatest polish book for kids named "W pustyni i w puszczy" (in english: "In Desert and Wilderness") you probably remember that huge, empty baobab's trunk gave shelter to Stas and Nel. By the African natives is called the Tree of Life and a plant that grows' with roots up. Baobab oil seduces with a slight.
In Namibia, the country in the southern Africa, women from Ovambo tribe for centuries are producing marula oil and use it as a universal cosmetic for skin and hair care. This yellow, liquid oil is pressed from the seeds of the Marula tree fruits, fav tree of the elephants. These animals love marula fruits and are eating it with seeds straight from the tree.
Regular price
zł28.00
-25%
Price
zł21.00
Strawberries are one of the symbols of sunny summer. Few people know, however, that from the small seeds of the fruit, the oil, called the strawberry elixir of youth, is pressed. Strawberry seed oil is a dark green, light product, and its aroma can be compared to slightly nutty and fruity notes.
For hundreds of years, grape seeds have not been used - only today, thanks to the developed technology, we can obtain oils even from so little oily products. We are glad that it happened. The original effect of this oil on the skin was discovered, among others, due to the huge content of vitamin E, which delays the aging process.
It's undeniably one of our favourite oils. With incredible speed, it rebuilds damaged skin. It is of gentle sweet, marzipan and almond scent. The product is mechanically pressed directly from the seeds without the use of high temperatures, thanks to which it maintains high nutritional properties.
Did you know that to the production of 18 liters of this oil there is a need of one truck of raspberries? Seeds of this irreplaceable in summer desserts fruit are source of valuable product. Golden, with a light nutty scent product is widely used in the care of the whole body.
According to the legend Tutankhamen was so fascinated by the effects of black cumin that ordered his servants to have it with them all the time. After Pharaoh death vial with oil was closed in his sarcophagus. Cleopatra and Nefertiti owed black cumin's oil a beautiful and silky smooth skin.
Regular price
zł32.00
-20%
Price
zł25.60
Customers who bought this product also bought:
A delicate, refreshing, citrus fragrance. A memory of a Tuscan holiday. This oil, obtained by distillation from the leaves of the citronella plant, has been known in the world of cosmetic producers for years. It can be found in the composition of many products - from soaps to perfumes. Apart from its versatile properties in Aromatherapy and body care, it is an extremely effective insect repellent. 
The history of using lemongrass for cosmetic and medicinal purposes dates back to ancient times. It was used by the ancestors of the Egyptians, Indians, Chinese and Greeks. The pure oil of lemongrass was extracted as early as the Middle Ages by one of the greatest medics of the time.
Regular price
zł26.00
-30%
Price
zł18.20
An extremely refreshing product loaded to the brim with valuable nutrients. Obtained in the process of steam distillation of fresh blades of lemongrass, the hydrolate strongly cleanses, regulates sebum secretion, tightens pores, and prevents excessive skin oiliness. In addition, it delights the senses with a delicate citrus note, which also has an antidepressant effect. What more could you want?
Floral water, obtained through steam distillation of the flower baskets of a plant called the common camomile, with a characteristic straw colour and a delicately floral scent (many recall the smell of herbs and freshly cut grass). We recommend using it in your daily morning and evening skincare routine. 
Essential oils have an extremely strong effect on the subconscious. They can bring back nice memories, keep moments for longer. They allow the body and soul to relax, minimise stress, soothe nerves and instil optimism. When you come home tired after a long day at work, with no hope of doing anything more than jumping into bed, a bath with lime oil will bring you back to life. The product you are about to see is obtained by cold pressing lime peels - the omission of chemical distillation makes it a rare, very good quality oil. Unscrupulously reject visions of boring evenings in front of the TV in favour of active time spent with family and friends.
Regular price
zł35.00
-25%
Price
zł26.25
Green coffee smells different than roasted, which we are drinking every morning. Immature green beans are extremely rich in antioxidants that protect our DNA's construction. This is another product straight from the Amazonian forest with an intense, herbal aroma which is bringing our noses smell of a freshly mown grass.