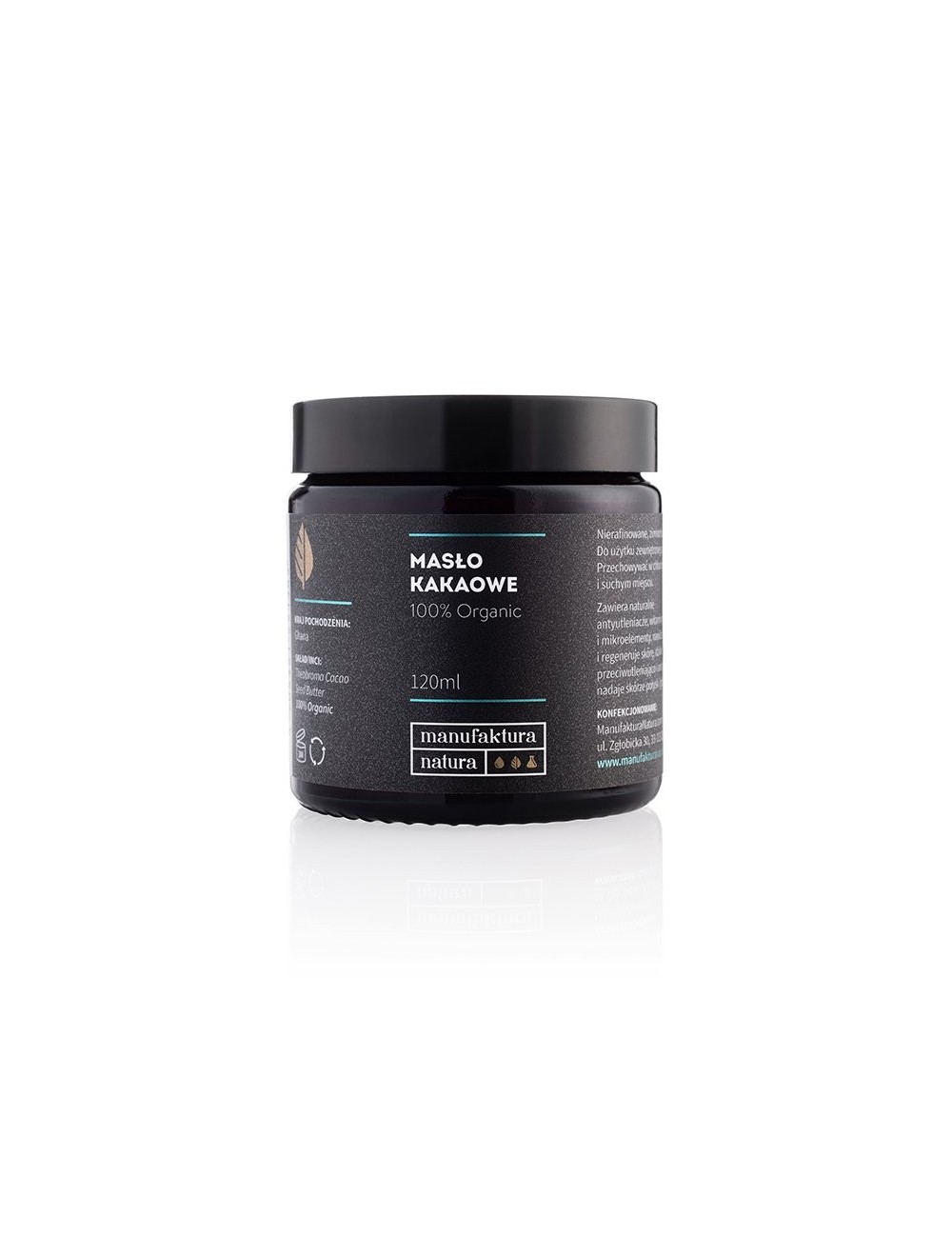  
Cocoa butter

PayPo Buy It Now - Pay in 30 days

Safe shopping

Fast delivery

Clear product returns

Natural products
Fani czekolady mogą zacierać ręce. Nie ma chyba nic lepszego niż zajadanie się ulubionymi słodyczami i jednocześnie nakładanie na ciało jednego z głównych składników smakołyku. W czasach prekolumbijskich nasiona kakaowca, z których uzyskuje się masło, traktowany był jako środek płatniczy, równie cenny jak złoto.
Specific References
EAN13

5903641536349
5 other products in the same category
Applied on the body after a morning shower, it will stimulate as well as a cup of small black coffee. Made from cold-pressed coffee beans, it will transport you to cafes in Central America where the locals are accustomed to sipping the drink slowly, in small sips, from porcelain cups. It will wonderfully warm you up and prepare you to take on everyday challenges.
A gentle body butter with a smooth, pleasant texture. We give you our word that you will fall in love with its amazing fragrance: oriental, citrusy, yet fresh and energising.
Regular price
zł35.00
-25%
Price
zł26.25
Extracted from the hand-picked nuts of the shea tree, which is considered sacred in Africa. No wonder that its miraculous properties are widely used in cosmetics and medicine. It is one of the best cosmetics that nature provides us with. It is a wonderful addition to many creams, lotions, body and hair masks.
Customers who bought this product also bought:
The unearthly scent of this oil will transport us to the sunny farmlands of the south of France. The yellow-red extract pressed from the peels of oranges will diffuse a wonderful and refreshing scent of citrus in our homes. Oranges, which are grown on a massive scale all over the world, are a source of many precious minerals and vitamins - just like the oil we would like to present to you.
Do you remember the scene in the film 'Black Swan' where Nina Sayers was eating breakfast? On her plate was half a grapefruit. And for good reason. It's part of a diet to maintain the right weight, and not just for ballerinas. This fruit has extraordinary properties. The oil is obtained by cold-pressing the peel of the fruit. It delights everyone with its specificity of action - and with its fragrance - citrus fans.
Extracted from an evergreen tree found mainly in Australia. The oil we present is obtained from its white flowers, leaves and seeds. It is an effective weapon in the fight against colds. The indigenous people of New Guinea used the leaves of the plant to dress wounds. It is a great repellent for mosquitoes and other stubborn insects.
An extremely refreshing product loaded to the brim with valuable nutrients. Obtained in the process of steam distillation of fresh blades of lemongrass, the hydrolate strongly cleanses, regulates sebum secretion, tightens pores, and prevents excessive skin oiliness. In addition, it delights the senses with a delicate citrus note, which also has an antidepressant effect. What more could you want?
Green coffee smells different than roasted, which we are drinking every morning. Immature green beans are extremely rich in antioxidants that protect our DNA's construction. This is another product straight from the Amazonian forest with an intense, herbal aroma which is bringing our noses smell of a freshly mown grass.
Regular price
zł26.00
-25%
Price
zł19.50
Sicilian Orange Hydrolate, rich in vitamins A, B and C as well as calcium, potassium, phosphorus, magnesium, sodium, zinc, selenium and iron, will soothe our senses, nourish, strengthen blood vessels, moisturise and smooth our skin. This hydrolate will provide a vitamin bomb for our skin.