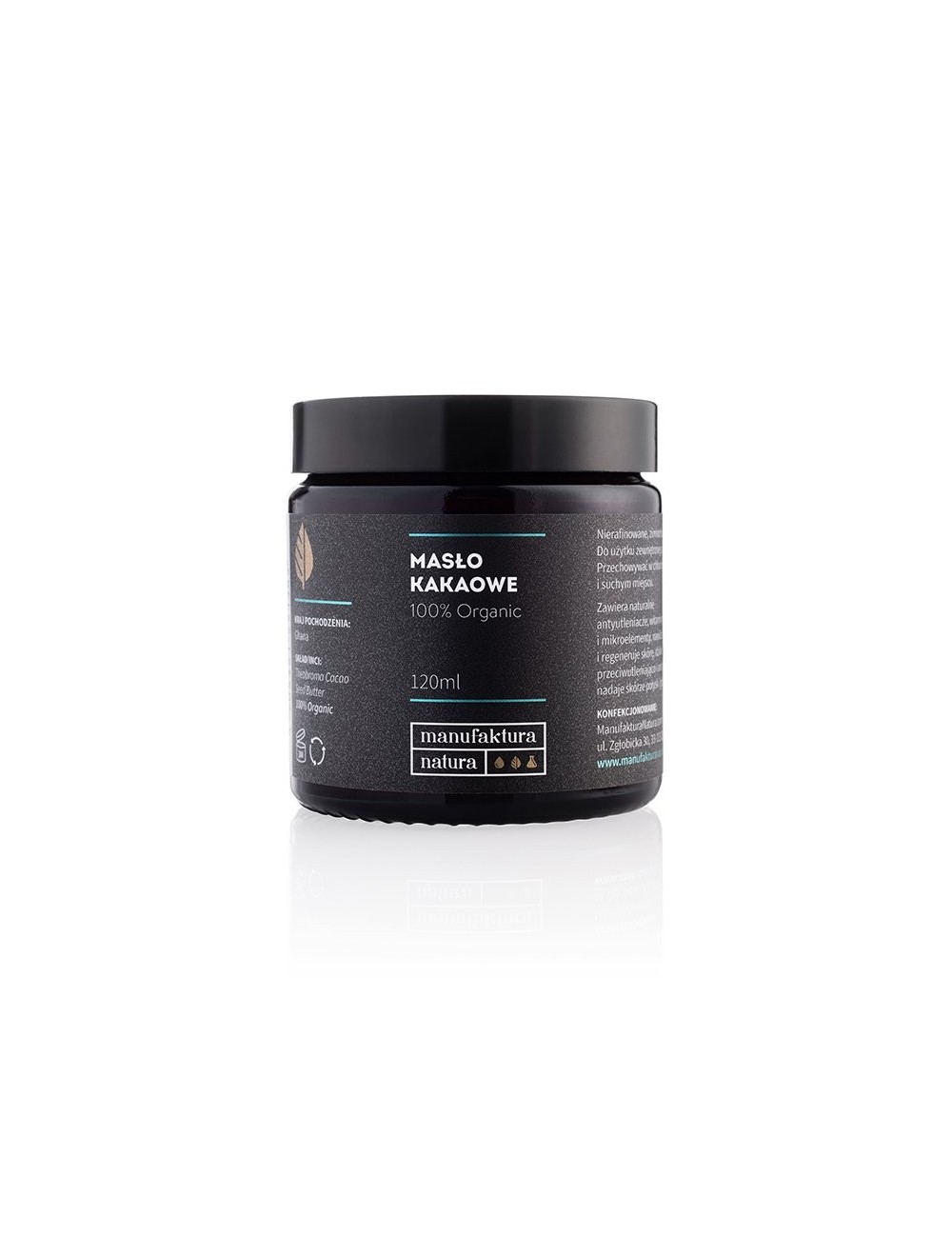  
Cocoa butter

PayPo Buy It Now - Pay in 30 days

Safe shopping

Fast delivery

Clear product returns

Natural products
Fani czekolady mogą zacierać ręce. Nie ma chyba nic lepszego niż zajadanie się ulubionymi słodyczami i jednocześnie nakładanie na ciało jednego z głównych składników smakołyku. W czasach prekolumbijskich nasiona kakaowca, z których uzyskuje się masło, traktowany był jako środek płatniczy, równie cenny jak złoto.
Specific References
EAN13

5903641536349
5 other products in the same category
Applied on the body after a morning shower, it will stimulate as well as a cup of small black coffee. Made from cold-pressed coffee beans, it will transport you to cafes in Central America where the locals are accustomed to sipping the drink slowly, in small sips, from porcelain cups. It will wonderfully warm you up and prepare you to take on everyday challenges.
Regular price
zł35.00
-40%
Price
zł21.00
Extracted from the hand-picked nuts of the shea tree, which is considered sacred in Africa. No wonder that its miraculous properties are widely used in cosmetics and medicine. It is one of the best cosmetics that nature provides us with. It is a wonderful addition to many creams, lotions, body and hair masks.
A gentle body butter with a smooth, pleasant texture. We give you our word that you will fall in love with its amazing fragrance: oriental, citrusy, yet fresh and energising.
Customers who bought this product also bought:
Did you know that to the production of 18 liters of this oil there is a need of one truck of raspberries? Seeds of this irreplaceable in summer desserts fruit are source of valuable product. Golden, with a light nutty scent product is widely used in the care of the whole body.
If you had the opportunity to read one of the greatest polish book for kids named "W pustyni i w puszczy" (in english: "In Desert and Wilderness") you probably remember that huge, empty baobab's trunk gave shelter to Stas and Nel. By the African natives is called the Tree of Life and a plant that grows' with roots up. Baobab oil seduces with a slight.
Pharmaceutical companies have been inspired by healing effects resulting directly from nature for years. We know that apricot kernels are an excellent source of vitamin B17, that fights with cancer cells. The common apricot tree not only gives fruit tasty, but also rich in vitamins. Oil ingredients, applied directly to the skin, naturally nourish it. 
Extracted from an evergreen tree found mainly in Australia. The oil we present is obtained from its white flowers, leaves and seeds. It is an effective weapon in the fight against colds. The indigenous people of New Guinea used the leaves of the plant to dress wounds. It is a great repellent for mosquitoes and other stubborn insects.
For hundreds of years, grape seeds have not been used - only today, thanks to the developed technology, we can obtain oils even from so little oily products. We are glad that it happened. The original effect of this oil on the skin was discovered, among others, due to the huge content of vitamin E, which delays the aging process.
Regular price
zł35.00
-30%
Price
zł24.50
Filled with the scent of gardenia flowers, the symbol of the tiara and crown. Monoi oil is a unique product and to these days is traditionally manufactured by the people of Polynesia. Flowers soaked in coconut oil for a long time are exuding their exotic aroma. Snow-white, star-shaped flowers are covering the shrubs which are planted at the fields of the Tahiti island.
In ancient time almond wood was used in king's scepters production - believed that it has a mysterious power that passes through the ruler. Just a few people know that Vincent van Gogh, enchanted by view of blooming almond trees, painted a "Blossoming Almond Tree" picture. It's nothing surprisingly then that the oil pressed from it's nuts is characterized by unique effects.