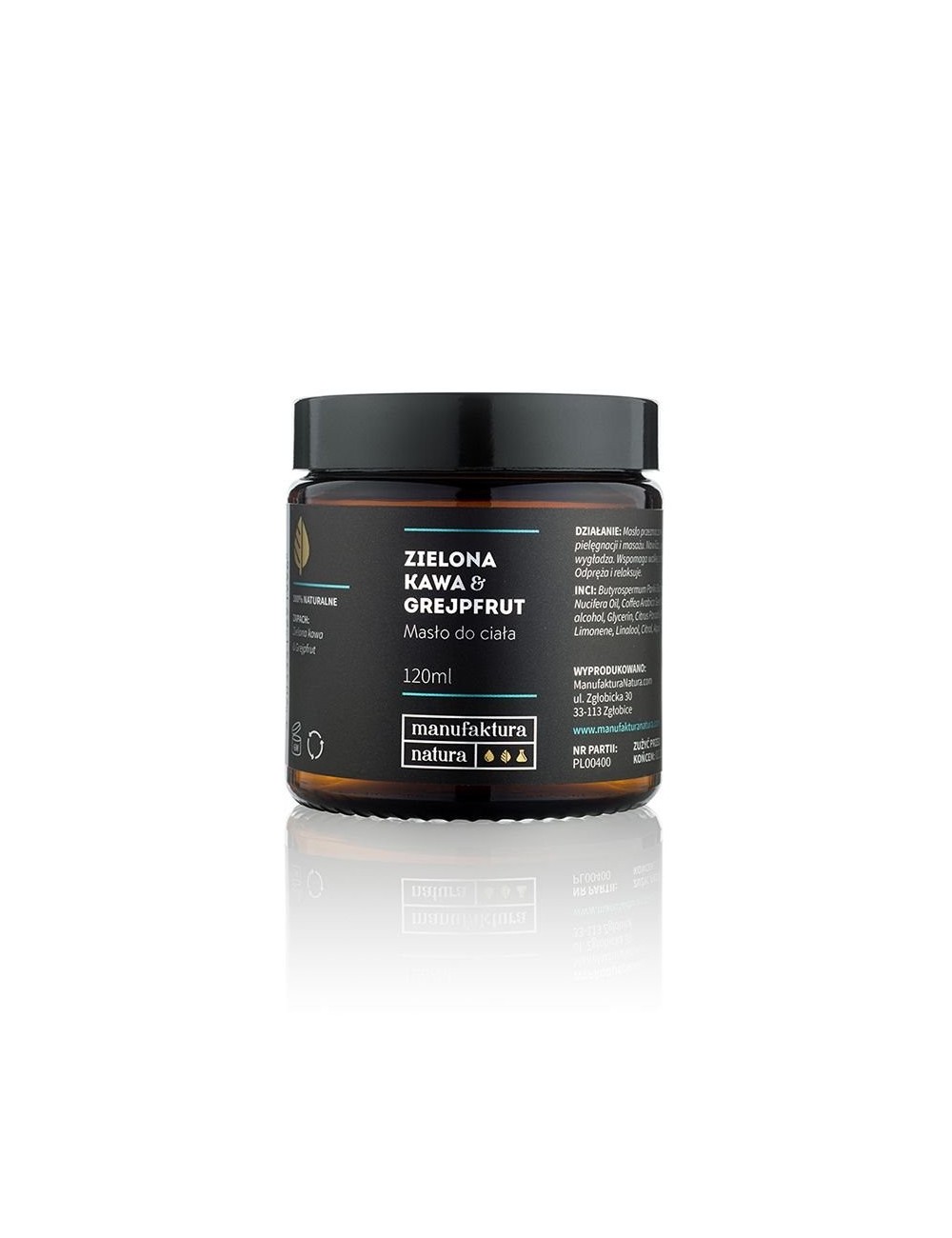  
Green Coffee with Grapefruit Body & Massage Butter

PayPo Buy It Now - Pay in 30 days

Safe shopping

Fast delivery

Clear product returns

Natural products
To produkt z rodzaju tych, których jest sobie ciężko odmówić. Pierwotnie zostało stworzone dla koleżanek z salonów masażu, które potrzebowały turbo- i hiperśrodka ujędrniającego. Można je wykorzystywać w codziennej pielęgnacji. Nadaje się także idealnie jako środek do masażu. Dosłownie topi się w kontakcie ze skórą, dlatego ręczymy, że niezwykle łatwo się go rozprowadza.
Specific References
EAN13

5903641536370
5 other products in the same category
Customers who bought this product also bought:
Avocado is worshiped for centuries in Central America – Aztecks named it 'the butter of wilderness'. The Incas believed that it affects to love. Avocados, due to it's coarse, dark green skin are called also 'the alligator pear', sailed to Europe in the seventeenth century. To these days world is crazy about it. Light green oil pressed from this fruit has remarkable properties.
In creating blends of natural summer scrubs, we were looking for an inspiration in what holidays are for us. This is not only a period of rest, but also outdoor events, where we reach out for refreshing drinks. The perfect scent for us was the combination of our favourite mojito drink and the lightly scented ocean waves. We are very pleased with the final result and we can present one of our favourite blends - stimulating citrus Mojito Ocean peeling.
Rosemary oil, with its distinctive, strong, woody-spicy, herbal scent, has been called a universal oil with "powerful properties". For me, its scent is like a sharp mountain breeze, clearing the mind, chasing away negative thoughts and fatigue, while stimulating action.
A gentle body butter with a smooth, pleasant texture. We give you our word that you will fall in love with its amazing fragrance: oriental, citrusy, yet fresh and energising.
Essential oils have an extremely strong effect on the subconscious. They can bring back nice memories, keep moments for longer. They allow the body and soul to relax, minimise stress, soothe nerves and instil optimism. When you come home tired after a long day at work, with no hope of doing anything more than jumping into bed, a bath with lime oil will bring you back to life. The product you are about to see is obtained by cold pressing lime peels - the omission of chemical distillation makes it a rare, very good quality oil. Unscrupulously reject visions of boring evenings in front of the TV in favour of active time spent with family and friends.
Regular price
zł26.00
-20%
Price
zł20.80
In this small bottle we have closed flawless, radiant complexion and memories about the spider veins. You shouldn't forget about this oil in your daily care routine. Pressed from bush fruit's seeds that grows wild in Poland, doesn't have the typical smell of a rose but a delicate aroma typical of it's fruit.