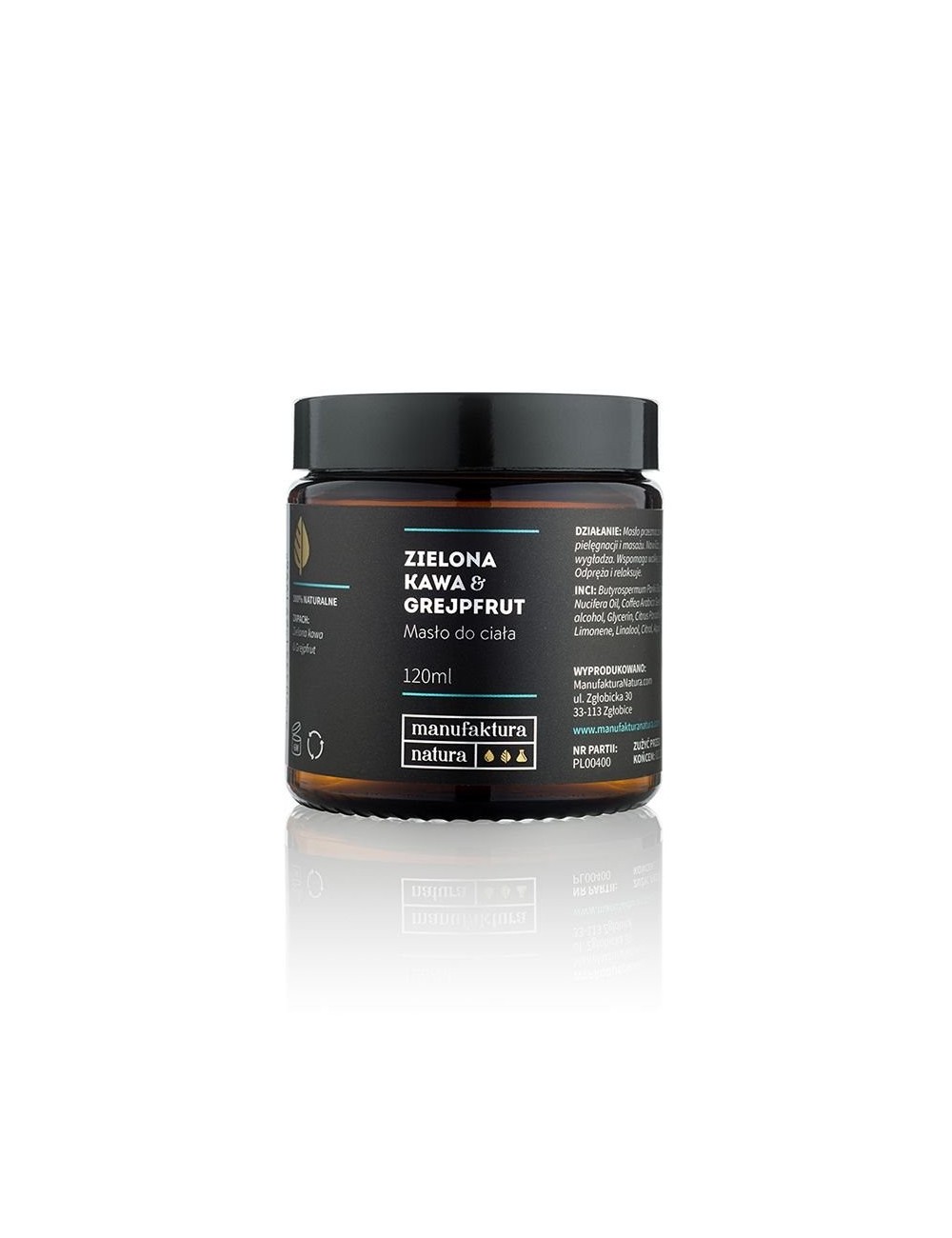  
Green Coffee with Grapefruit Body & Massage Butter

PayPo Buy It Now - Pay in 30 days

Safe shopping

Fast delivery

Clear product returns

Natural products
To produkt z rodzaju tych, których jest sobie ciężko odmówić. Pierwotnie zostało stworzone dla koleżanek z salonów masażu, które potrzebowały turbo- i hiperśrodka ujędrniającego. Można je wykorzystywać w codziennej pielęgnacji. Nadaje się także idealnie jako środek do masażu. Dosłownie topi się w kontakcie ze skórą, dlatego ręczymy, że niezwykle łatwo się go rozprowadza.
Specific References
EAN13

5903641536370
5 other products in the same category
Applied on the body after a morning shower, it will stimulate as well as a cup of small black coffee. Made from cold-pressed coffee beans, it will transport you to cafes in Central America where the locals are accustomed to sipping the drink slowly, in small sips, from porcelain cups. It will wonderfully warm you up and prepare you to take on everyday challenges.
A gentle body butter with a smooth, pleasant texture. We give you our word that you will fall in love with its amazing fragrance: oriental, citrusy, yet fresh and energising.
Regular price
zł35.00
-40%
Price
zł21.00
Extracted from the hand-picked nuts of the shea tree, which is considered sacred in Africa. No wonder that its miraculous properties are widely used in cosmetics and medicine. It is one of the best cosmetics that nature provides us with. It is a wonderful addition to many creams, lotions, body and hair masks.
Customers who bought this product also bought:
Regular price
zł24.00
-30%
Price
zł16.80
Do you remember the scene in the film 'Black Swan' where Nina Sayers was eating breakfast? On her plate was half a grapefruit. And for good reason. It's part of a diet to maintain the right weight, and not just for ballerinas. This fruit has extraordinary properties. The oil is obtained by cold-pressing the peel of the fruit. It delights everyone with its specificity of action - and with its fragrance - citrus fans.
Cacay oil is an extremely efficient product. Just massage into the skin a few drops. It absorbs very quickly and does not leave a greasy film on the skin. Recommended especially for people with mature, dehydrated, dry, irritated by UV-rays, problematic (sensitive, acne) skin; with signs of aging and with skin discoloration.
Did you know that to the production of 18 liters of this oil there is a need of one truck of raspberries? Seeds of this irreplaceable in summer desserts fruit are source of valuable product. Golden, with a light nutty scent product is widely used in the care of the whole body.
The history of using lemongrass for cosmetic and medicinal purposes dates back to ancient times. It was used by the ancestors of the Egyptians, Indians, Chinese and Greeks. The pure oil of lemongrass was extracted as early as the Middle Ages by one of the greatest medics of the time.
Mission Accomplished! We managed to close nourished, flexible, brightened and smooth skin in just a bottle. Let us present you an Over-Night Intensive Recovery Serum.
A unique blend of hyaluronic acids which will respond to the needs of our clients in terms of moisturizing and caring for skin exposed to the occurrence of wrinkles. Hyaluronic acid, one of the strongest substances in this matter.