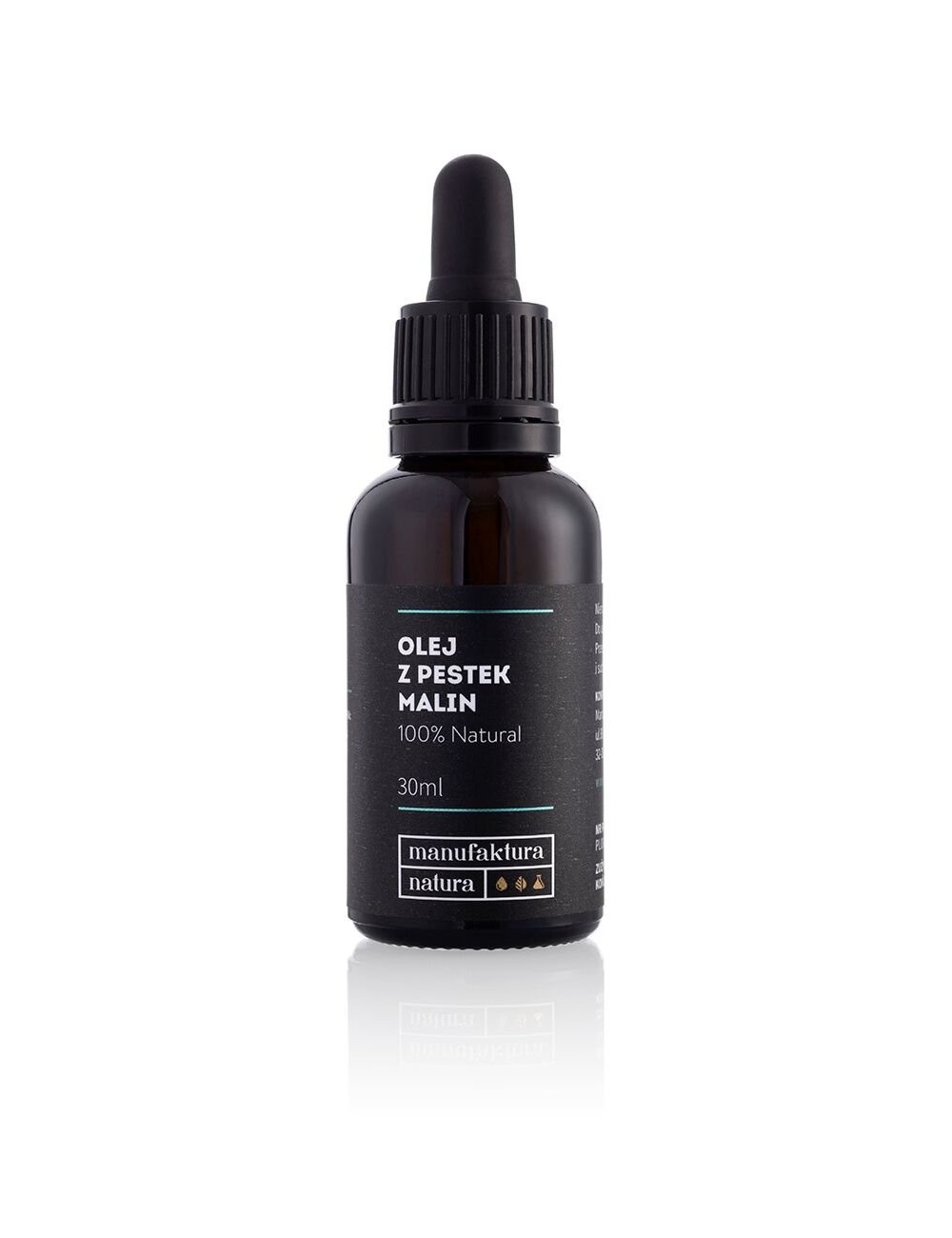  
Raspberry seed oil
Tax included
Lowest price within 30 days before promotion:

zł26.00
Did you know that to the production of 18 liters of this oil there is a need of one truck of raspberries? Seeds of this irreplaceable in summer desserts fruit are source of valuable product. Golden, with a light nutty scent product is widely used in the care of the whole body.

PayPo Buy It Now - Pay in 30 days

Safe shopping

Fast delivery

Clear product returns

Natural products
Did you know that to the production of 18 liters of this oil there is a need of one truck of raspberries? Seeds of this irreplaceable in summer desserts fruit are source of valuable product. Golden, with a light nutty scent product is widely used in the care of the whole body.
How to use it?
raspberry seed oil is recommended to use as a face oil; used alone or in combination rubbed into the skin in circular motions will give your skin smoothness,

enrich your favorite face cream and body lotion with a few drops of oil directly before use,

pat the oil gently into the skin around the eyes – it will stay hydrated,

people with oily skin can use oil as a cosmetic that regulate the overproduction of sebum,

mix the oil with your favorite hydrolate in the ratio of 1: 1, and you will get a moisturizing facial cleanser that doesn't require rinsing and can also be used as a preparation for eye makeup remover,

use as an massage olive,

this product is suitable for use in the care of every hair types by protecting it with the UV filters; rub the oil into your hair and scalp, leave for 30 minutes and wash as usual,

add a few drops of oil to your fav hair conditioner directly before use,

regularly rubbed into the hands and nails will give them hydration,

when you are planning a sunny vacation you should reach for this raspberry oil - it contains in it's composition vitamin A and E and unsaturated fatty acids which naturally protect the skin against UVA and UVB rays.
INCI: Rubus Idaeus (Raspberry) Seed Oil
Cold pressed, unrefined, 100% natural oil
The rules of storage:
After opening the package, we recommend to keep the oil in the fridge.
Packaging: 30ml
16 other products in the same category
Regular price
zł26.00
-30%
Price
zł18.20
Regular price
zł26.00
-30%
Price
zł18.20
Avocado is worshiped for centuries in Central America – Aztecks named it 'the butter of wilderness'. The Incas believed that it affects to love. Avocados, due to it's coarse, dark green skin are called also 'the alligator pear', sailed to Europe in the seventeenth century. To these days world is crazy about it. Light green oil pressed from this fruit has remarkable properties.
Years back Roman commanders ordered to serve to the warriors wine with the addition of borage leaves believing that it will add them manhood in battle. To these days we still don't know if it was effective. We know, however, that modern medicine appreciates the health benefits of borage because of the content of many substances that favorably affecting to the human body.
Strawberries are one of the symbols of sunny summer. Few people know, however, that from the small seeds of the fruit, the oil, called the strawberry elixir of youth, is pressed. Strawberry seed oil is a dark green, light product, and its aroma can be compared to slightly nutty and fruity notes.
Regular price
zł26.00
-40%
Price
zł15.60
For hundreds of years, grape seeds have not been used - only today, thanks to the developed technology, we can obtain oils even from so little oily products. We are glad that it happened. The original effect of this oil on the skin was discovered, among others, due to the huge content of vitamin E, which delays the aging process.
Regular price
zł55.00
-30%
Price
zł38.50
Cacay oil is an extremely efficient product. Just massage into the skin a few drops. It absorbs very quickly and does not leave a greasy film on the skin. Recommended especially for people with mature, dehydrated, dry, irritated by UV-rays, problematic (sensitive, acne) skin; with signs of aging and with skin discoloration.
Not everyone knows the fact that the plant which is growing in the fields, meadows and wasteland, widely regarded as a weed has remarkable properties, highly prized by the pharmaceutical and cosmetic industries. Evening primrose was the one loved for centuries and used by women and men to body care.
In Namibia, the country in the southern Africa, women from Ovambo tribe for centuries are producing marula oil and use it as a universal cosmetic for skin and hair care. This yellow, liquid oil is pressed from the seeds of the Marula tree fruits, fav tree of the elephants. These animals love marula fruits and are eating it with seeds straight from the tree.
Regular price
zł36.00
-25%
Price
zł27.00
Obtained manually, in an extremely complex way, from argan trees found only in Morocco. As much as 35kg of argan fruit are needed to produce one liter of oil. Thanks to its beautiful, golden, amber color and precious properties, it has gained the nickname of "liquid Moroccan gold".
If you had the opportunity to read one of the greatest polish book for kids named "W pustyni i w puszczy" (in english: "In Desert and Wilderness") you probably remember that huge, empty baobab's trunk gave shelter to Stas and Nel. By the African natives is called the Tree of Life and a plant that grows' with roots up. Baobab oil seduces with a slight.
Pharmaceutical companies have been inspired by healing effects resulting directly from nature for years. We know that apricot kernels are an excellent source of vitamin B17, that fights with cancer cells. The common apricot tree not only gives fruit tasty, but also rich in vitamins. Oil ingredients, applied directly to the skin, naturally nourish it. 
Customers who bought this product also bought:
People with sensitive skin, not responsive to tanning in the sun and allergic to ingredients in tanning lotions should try carrot oil. Applied on the body will feed the skin with beneficial vitamins and minerals and leave a brown-gold colour on it. Beautiful, delicate tan will make your skin look more healthy and you can enjoy it not only in summer but for the whole year.
The history of using lemongrass for cosmetic and medicinal purposes dates back to ancient times. It was used by the ancestors of the Egyptians, Indians, Chinese and Greeks. The pure oil of lemongrass was extracted as early as the Middle Ages by one of the greatest medics of the time.
A gentle body butter with a smooth, pleasant texture. We give you our word that you will fall in love with its amazing fragrance: oriental, citrusy, yet fresh and energising.
A unique blend of hyaluronic acids which will respond to the needs of our clients in terms of moisturizing and caring for skin exposed to the occurrence of wrinkles. Hyaluronic acid, one of the strongest substances in this matter.
Regular price
zł32.00
-40%
Price
zł19.20
Regular price
zł26.00
-20%
Price
zł20.80
Widely known as a fruit extremely rich in vitamin C. Lemon. A light, fresh water is obtained from the peel of the fruit using steam distillation. The gentle production process ensures that the ingredients in the lemon are not destroyed and finally end up in the bottle labelled "lemon hydrolate". In addition to vitamin C, you will find a wealth of B vitamins, minerals such as potassium and magnesium, essential oils and brightening fruit acids.
Applied on the body after a morning shower, it will stimulate as well as a cup of small black coffee. Made from cold-pressed coffee beans, it will transport you to cafes in Central America where the locals are accustomed to sipping the drink slowly, in small sips, from porcelain cups. It will wonderfully warm you up and prepare you to take on everyday challenges.