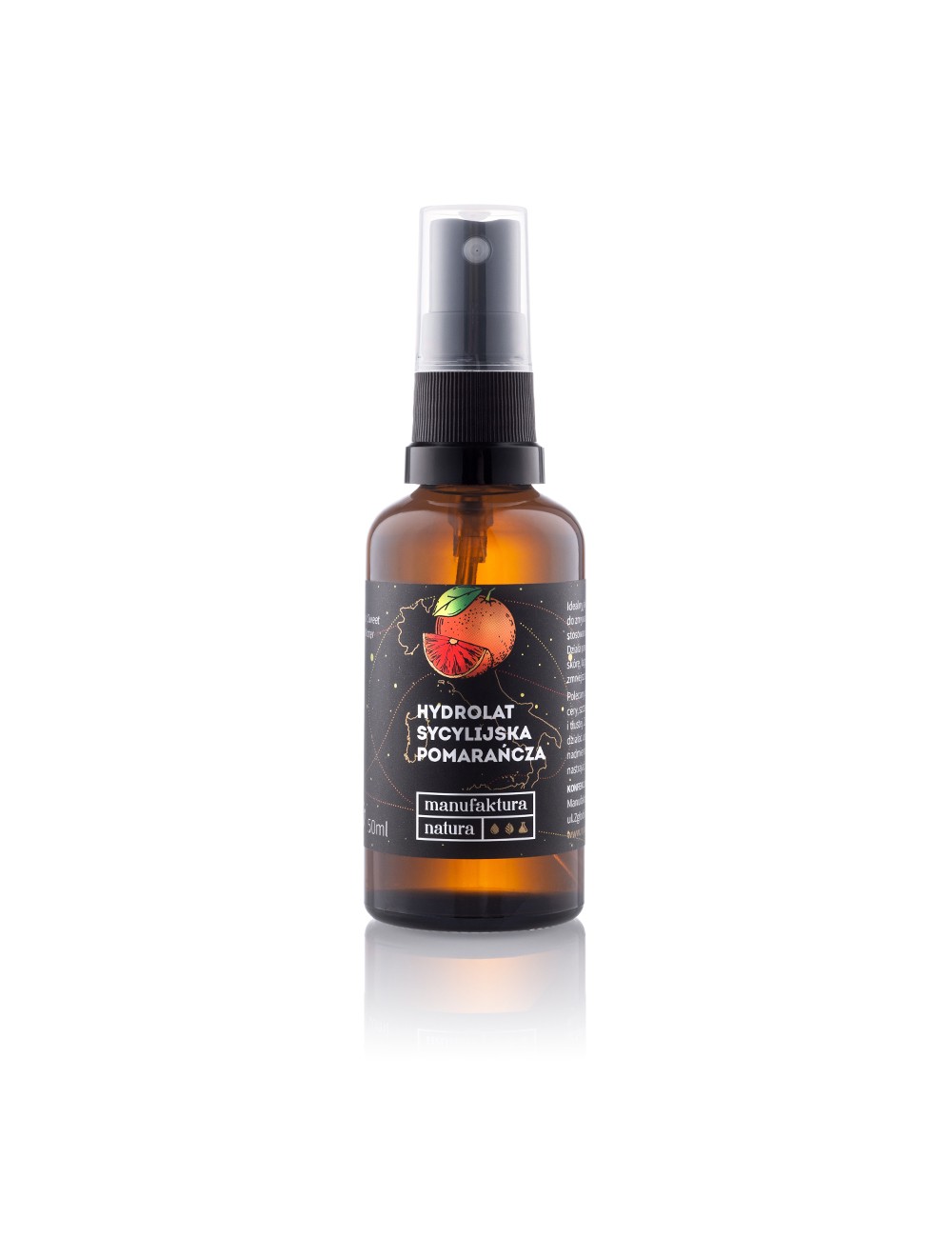  
Sicilian Orange Hydrolate
Sicilian Orange Hydrolate, rich in vitamins A, B and C as well as calcium, potassium, phosphorus, magnesium, sodium, zinc, selenium and iron, will soothe our senses, nourish, strengthen blood vessels, moisturise and smooth our skin. This hydrolate will provide a vitamin bomb for our skin.

PayPo Buy It Now - Pay in 30 days

Safe shopping

Fast delivery

Clear product returns

Natural products
Whoever has visited Sicily at least once in his life, strolling along the atmospheric alleys of the local towns, has certainly paid attention to this fruit. Its unique, maroon colour, does not allow us to do anything else than to taste the sweet juice of this divine Sicilian Orange. The very thought of it transports us to sunny Italy and allows us to dream about this place for a while.
The Sicilian Orange Hydrolate, even with the first application on the face, will take us to the Mediterranean climate and guarantee us a substitute of holidays.
Sicilian Orange rich in vitamins A, B and C as well as calcium, potassium, phosphorus, magnesium, sodium, zinc, selenium and iron, soothes our senses, nourishes, strengthens blood vessels, moisturises and smoothes our skin. This hydrolate will provide a vitamin bomb for our skin.
Specific References
EAN13

5903641536264
16 other products in the same category
"Black Gold" - This is the nickname bamboo charcoal has earned. All because of its origin and invaluable properties. Obtained from the fastest growing plant in the world, a variety of bamboo called MOSO, burned at a temperature exceeding 100 °C and finely powdered, it creates a precious cosmetic - Konjac Sponge with Bamboo Charcoal, whose "production" is 100% environmentally friendly.
An exercise mat is an indispensable and basic element of every workout. Thanks to it you will take care of your health, well-being and beautiful silhouette at home or outdoors.
A gentle body butter with a smooth, pleasant texture. We give you our word that you will fall in love with its amazing fragrance: oriental, citrusy, yet fresh and energising.
When the first wrinkles appear on our faces, we start to think about caring for our mature skin. We are looking for products that will firm the skin, smooth out wrinkles and make the face look smoother. In our gift set we have selected products for special tasks. Prickly pear oil, Konjac sponge with red clay, Hyaluronic acid 3% and Prickly pear cream with rose will make time stand still! Choose from a small or large set. 
Nefretete and Cleopatra, believing that this plant would keep them young forever, bathed in its juices and used a powder made from its base. Lily of the desert, gift of heaven, plant of immortality, so many names are given to Aloe Vera, and all reflect its invaluable properties. By combining the Konjac Sponge with Aloe Vera, we have created an indispensable product for daily skin care.
The festive and winter season cannot be complete without juicy mandarins. That is why we decided to create a set that will add even more magic to Christmas. And so we created our tangerine bomb - Mandarinlove body scrub and Sicilian tangerine hydrolate. Thanks to them you will be able to experience tangerine pleasure from head to toe.
Regular price
zł78.00
-15%
Price
zł66.30
In creating blends of natural summer scrubs, we were looking for an inspiration in what holidays are for us. This is not only a period of rest, but also outdoor events, where we reach out for refreshing drinks. The perfect scent for us was the combination of our favourite mojito drink and the lightly scented ocean waves. We are very pleased with the final result and we can present one of our favourite blends - stimulating citrus Mojito Ocean peeling.
When putting together a kit for dry skin, we wondered what would turn out to be the best product from our collection. And so we created a set in which aloe vera and cucumber play the first fiddle. They have wonderful soothing and moisturising properties. They are one of the most frequently chosen additives for highly hydrating products. And to top it all off, they are accompanied by hyaluronic acid 3%, Prickly Pear Rose Cream and Plum Seed Oil. All the products together form a harmonious team for the daily care of dry skin.
The skin of our body, especially in the autumn and winter, requires special care. Frost, alternating with warm temperatures at home, makes our skin rough, dry and lacks firmness. To prevent this, we suggest an intensive two-step care: Mojito Ocean peeling and Green Coffee and Grapefruit Body Butter. They form an ideal duet in the fight against dry skin, and in addition they firm the skin and make it as smooth as ever.
The hot Italian sun is what we miss most during the year and what we love to return to during our holidays. We would like to remind you a little bit of those already forgotten holidays by presenting you a tangerine hydrolate straight from Sicily! Its scent will take us to the most beautiful corners of the island and remind us what we love Italy for!
There is nothing more wonderful than a deliciously scented peeling that makes your skin look healthy. We managed to create a product that is pleasantly sweet-scented and juicy as tangerines. We want to present to you a salt peeling -  a product that we all have fallen in love with since the first use and that we enjoy with each and every use. 
Customers who bought this product also bought: