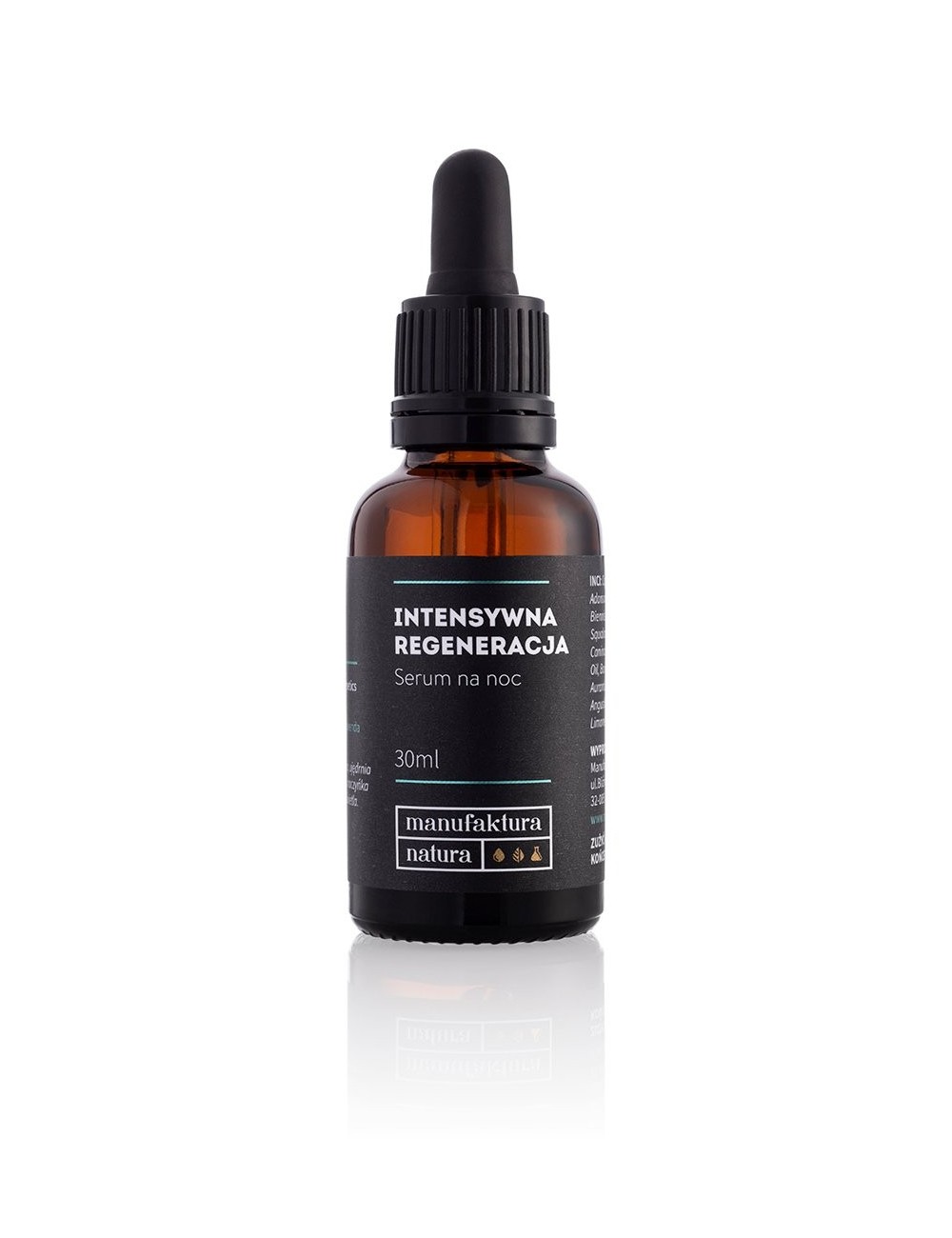  
Over-Night Intensive Recovery Serum
Mission Accomplished! We managed to close nourished, flexible, brightened and smooth skin in just a bottle. Let us present you an Over-Night Intensive Recovery Serum.

PayPo Buy It Now - Pay in 30 days

Safe shopping

Fast delivery

Clear product returns

Natural products
The main key ingredient is one of the most wanted and known oils in the world: Prickly Pear Oil.
It strengthens the skin, shows anti-oxidative properties and slows down the aging processes. Combined with the rest of the ingredients, it creates a special task team, which aims at smoothing skin's texture, improving its appearance, and reducing redness.
Apply before sleep and let the Lavender& Sweet Orange delicate scent relax your body and mind before over-night recovery.
Product Details:
Light and easily absorbed consistency

Lavender&Sweet Orange scent

Recovers, nourishes, firms, refines wrinkles and fine lines

For best results, apply a few drops daily
Perfect for all skin types, especially aging and with better nourishment needs.

Full Ingredients List:
Prickly Pear Oil*, Jojoba Oil*, Evening Primrose Oil*, Baobab Oil, Grape Seed Oil*, Squalane, Rose Hip Oil, Borage Oil*, Carrot Seed Oil, Sweet Orange Essential Oil, Lavender Essential Oil
*Organic Components
INCI: Opuntia Ficus-Indica Seed Oil, Simmondsia Chinensis Oil, Oenothera Biennes Oil, Adansonia Digitata Seed Oil, Vitis Vinifera Seed Oil, Squalane, Rosa Canina Fruit Oil, Borago Officinalis Seed Oil, Heliantus Annus Seed Oil & Beta-Carotene, Lavandula Augustifolia Oil, Citrus Aurantium Dulcis Peel Oil
100% natural. Not tested on animals. Vegan.
Specific References
EAN13

5903641536219
Consistency: The serum is light, easily absorbed.
Aroma: oranges with a hint of lavender.
Action: regenerating, anti-wrinkle, nourishing, firming.
For whom it is used. For people with mature skin.
INCI: Prickly Pear Oil Organic, Jojoba Oil Organic, Evening Primrose Oil Organic, Baobab Oil, Grape Seed Oil Organic, Olive Squalane, Rosehip Oil, Borage Oil Organic, Carrot Oil, Sweet Orange Oil Organic, Lavender Oil Organic
How to use? 
Gently massage a few drops of serum into cleansed face and neck before bedtime.
3 other products in the same category
A unique blend of hyaluronic acids which will respond to the needs of our clients in terms of moisturizing and caring for skin exposed to the occurrence of wrinkles. Hyaluronic acid, one of the strongest substances in this matter.
A unique blend of three different types of hyaluronic acid - low molecular weight SLMW and LMW acids and HMW acid, which will respond to the needs of our clients in terms of moisturizing and caring for skin exposed to the occurrence of wrinkles. Hyaluronic acid, one of the strongest substances in this matter.
Regular price
zł120.00
-30%
Price
zł84.00
Glossy Glow moisturizing and brightening serum is a product whose ingredients replace the skin with a smooth, moisturized and brightened one. The product is rich in hyaluronic acid, vitamins, nutritious oils, and ... which probably excites us the most: it smells beautifully with Goji berries.
Customers who bought this product also bought:
People with sensitive skin, not responsive to tanning in the sun and allergic to ingredients in tanning lotions should try carrot oil. Applied on the body will feed the skin with beneficial vitamins and minerals and leave a brown-gold colour on it. Beautiful, delicate tan will make your skin look more healthy and you can enjoy it not only in summer but for the whole year.
In this small bottle we have closed flawless, radiant complexion and memories about the spider veins. You shouldn't forget about this oil in your daily care routine. Pressed from bush fruit's seeds that grows wild in Poland, doesn't have the typical smell of a rose but a delicate aroma typical of it's fruit.
Years back Roman commanders ordered to serve to the warriors wine with the addition of borage leaves believing that it will add them manhood in battle. To these days we still don't know if it was effective. We know, however, that modern medicine appreciates the health benefits of borage because of the content of many substances that favorably affecting to the human body.
Regular price
zł35.00
-40%
Price
zł21.00
Extracted from the hand-picked nuts of the shea tree, which is considered sacred in Africa. No wonder that its miraculous properties are widely used in cosmetics and medicine. It is one of the best cosmetics that nature provides us with. It is a wonderful addition to many creams, lotions, body and hair masks.
A delicate, refreshing, citrus fragrance. A memory of a Tuscan holiday. This oil, obtained by distillation from the leaves of the citronella plant, has been known in the world of cosmetic producers for years. It can be found in the composition of many products - from soaps to perfumes. Apart from its versatile properties in Aromatherapy and body care, it is an extremely effective insect repellent. 
Regular price
zł26.00
-20%
Price
zł20.80
Widely known as a fruit extremely rich in vitamin C. Lemon. A light, fresh water is obtained from the peel of the fruit using steam distillation. The gentle production process ensures that the ingredients in the lemon are not destroyed and finally end up in the bottle labelled "lemon hydrolate". In addition to vitamin C, you will find a wealth of B vitamins, minerals such as potassium and magnesium, essential oils and brightening fruit acids.